x
Error message
Image resize threshold of 10 remote images has been reached. Please use fewer remote images.
Why you should study abroad
Study abroad programs provide an opportunity for you to develop a valuable skill set that can give you an advantage over the competition by:
Improving your cross cultural skills for effective communication across populations;

Challenging you to adapt to unfamiliar social and cultural circumstances;

Exposing you to diverse cultural environments and differences worldwide;

Enhancing your resume and portfolio with the invaluable experience of going abroad
A Message from the School of Art, Media and Engineering
"ASU offers a wide variety of study abroad programs that will allow you to reach outside your comfort zone and learn to grow with the world around you. Through these programs, you will not only have the chance to learn about various cultures and languages but also seize the opportunity to take in the broad uses of technology and its impact on a global scale. These are only some of the ways the study abroad programs can impact your life and the surrounding lives across the globe. I highly recommend studying abroad to broaden your horizons and open new pathways to your future."
- Pavan Turaga - Interim Director, School of Arts, Media and Engineering 
Planning Your Program
General Advice
Meet With Your Academic Advisor
Meet With the Study Abroad Office
Research Your Funding Options
Recommended Programs
Although Herberger students can participate in any ASU study abroad program, the following programs are recommended.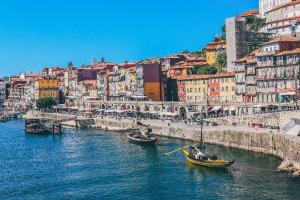 Program Type: Partnership
Available Terms: Summer
Country: Portugal
Unique Features: Learn what it takes to become a global entrepreneur and take part in a life-changing experience! The goal of this program is to go from an idea to a tech start-up in 15 days. The program is designed to offer students an experiential learning opportunity that affords deep insight into the real startup life. Porto, located along the Douro River estuary in northern Portugal, has public art is everywhere, from azulejos decorating metro stations to street art decorating medieval walls.